LAMP Training Workshop (Online)
Due to public health concerns about the COVID-19 virus, The Center for AAC & Autism will be doing in-person trainings only when we can comply with CDC and local guidelines, and we feel we can ensure the health and safety of our hosts, attendees and trainers. As conditions may change, trainings may be moved online as necessary. If you feel sick or have come in contact with someone confirmed or suspected of having COVID-19, please do not attend. Transfers or refunds will be given without penalty. If you have questions about our LAMP trainings, please email
registrations@aacandautism.com
.
Wed., Aug. 12, 2020
9:00 am - 12:00 pm
Time Zone: America/New_York

39 USD

Online

Instructor: Janie Cirlot-New
Introduction to LAMP and LAMP Words for Life
This course will provide a brief overview of the Language Acquisition through Motor Planning (LAMP) approach and the LAMP Words for Life Vocabulary. It will include an introduction to the key components of LAMP: readiness to learn, engaging the learner in motivating activities, and learning language through a unique and consistent motor plan paired with an auditory signal and a natural consequence. There will be discussion and demonstration on the vocabulary organization and options available in LAMP Words for Life. Participants will learn how to use several key features in the LAMP Words for Life app: Vocabulary Builder, Word Finder, and Storing a Word. Videos and hands on activities will be used to illustrate and teach key concepts through the training.
---
Participants will be able to:
Describe the differences between LAMP and LAMP Words for Life
List the 5 key elements of the LAMP therapeutic approach
List the vocabulary options available and state the differences between the vocabularies available in LAMP Words for Life
Demonstrate a  basic understanding of the vocabulary representation within LAMP Words for Life
Demonstrate the ability to utilize features within LAMP Words for Life for the purposes of implementation
5 minutes - Welcome and Introduction
20 minutes - Introduction to the LAMP approach and LAMP Words for Life iPad application
35 minutes - 5 Key Elements of the LAMP approach (Readiness to Learn, Joint Engagement, Consistent  and Unique Motor Plans, Auditory Signal, Natural Consequence)
35 minutes - Overview of LAMP Words for Life Vocabulary options and Language Representation
15 minutes - Word Finder feature demonstration and hands on practice
30 minutes - Vocabulary Builder feature demonstration and hands on practice
20 minutes - Programming new Vocabulary demonstration and hands on practice
10 minutes - LAMP Words for Life English/Spanish
10 minutes - Summary and Follow up Q&A
Janie Cirlot-New, M.S., CCC-SLP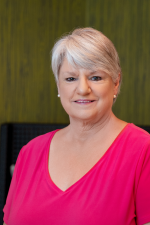 Janie Cirlot-New is a speech-language pathologist and provides trainings for The Center for AAC and Autism. Janie has worked in the field of AAC for over 35 years. She has a special interest in children with autism and other disabilities who are nonspeaking. Janie has taught classes in assistive technology at Mississippi State University and in augmentative and alternative (AAC) communication at Mississippi University for Women and the University of Southern Mississippi.
Janie graduated from the University of Southern Mississippi with a Bachelor's degree in Speech and Hearing Sciences. She received a Master's degree from the University of South Alabama in Speech Pathology. Janie is licensed as a Speech Language Pathologist in the state of Mississippi. She has provided augmentative and alternative communication services to individuals of all ages. She holds the Certificate of Clinical Competence from the American Speech Language Hearing Association.
Janie is retired as Director of the T.K. Martin Center for Technology and Disability at Mississippi State University where she developed the augmentative and alternative communication evaluation and training program and provided evaluations, intervention and training in the area of augmentative communication. Janie served as principal investigator on a U.S. Department of Education funded project to assist local education agency teams in utilizing assistive technology to allow students access to the general curriculum and to improve literacy skills of students with expressive communication disorders.
Financial: Janie Cirlot-New is contracted by The Center for AAC and Autism.
Non-Financial: Janie receives free equipment from the Center for AAC and Autism to use for her presentations.
ASHA CEUs

0.3

Instructional Level

Introductory

Content Area

Professional
Submission Deadlines
Live online classes: Participants wanting ASHA CEUs must be registered, "join" the class through his/her unique confirmation email letter and participate for the entire duration of the class. No partial credits will be submitted. Participants have 15 days to submit all ASHA paperwork to PRC. ASHA paperwork received after 15 days will not be accepted. Your entrance and exit of the class are timestamped and you must stay logged in on a computer or tablet for the entire class in order to receive ASHA CEUs. Call-in only attendance does not qualify for ASHA CEUs.

In-person classes: All ASHA paperwork must be submitted to the presenter by the end of the training day.
ASHA Information
Participants wanting ASHA CEUs for a multiple day training must attend all days. In addition, if there is a registration fee associated with the class and payment is not received, PRC will not submit your request for ASHA CEUs.

An annual ASHA CE Registry fee is required to register ASHA CEUs. ASHA CE Registry fees are paid by the participant directly to the ASHA National Office. The annual ASHA CE Registry fee allows registration of an unlimited number of ASHA CEUs for the calendar year. Contact the ASHA CE staff at 800-498-2071 ext. 8591 for CE Registry fee subscription information: www.asha.org
PRC-Saltillo licenses a patented technology that is in PRC-Saltillo products trademarked as Accent®, ChatFusion™, NovaChat®, PRiO®, TouchChat®, TouchChat® Express, Look™, NuEye®, and NuPoint®, as well as software (CoreScanner™, Engage, Essence®, VocabPC™, MultiChat15, UNIDAD®, Unity®, WordPower™, LAMP Words for Life®, LAMP Words for Life® - Spanish/English, LAMP Words for Life® - VI, TouchChat® app), and our Language Acquisition through Motor Planning™ (LAMP) approach. PRC-Saltillo also has registered five websites, aacapps.com, aaclanguagelab.com, exploreaac.com, realizelanguage.com, touchchatapp.com, and alpforaac.com. Because there are no other like-kind products available, course offerings will only cover information that pertains to the effective and safe use of the above-named products/softwares/websites.
PRC presentations will focus exclusively on Accent, PRiO, NuEye, Look, NuPoint, Unity, UNIDAD, LAMP Words for Life, LAMP Words for Life - Sp/En, LAMP Words for Life - VI, CoreScanner, Essence, WordPower, Explore AAC, Realize Language, or AAC Language Lab and will not include information regarding other similar or related augmentative and alternative communication (AAC) devices or software.
Saltillo presentations will focus exclusively on ChatFusion, NovaChat, TouchChat, VocabPC, MultiChat15, WordPower, TouchChat app, Explore AAC, or TouchChat website.
WordPower is a trademark of Inman Innovations, Inc; © 2001-2019; All rights reserved. Used with permission.
The Assessment of Learning Process (ALP) for AAC is a trademark of PRC-Saltillo and Lisbeth Nilsson.
Most of our presenters are salaried, employee-owners of PRC-Saltillo. A few of our presenters are contracted presenters.
This course is offered for 0.3 ASHA CEUs (Introductory level, Professional area).
Refund Policy
Payment: Registration may be paid by credit card or purchase order. A $30 processing fee will be applied to each purchase order. You must register each individual separately online with their own contact information. If registering more than 10 people, call 866-998-1726 to verify there are enough seats remaining.

Refund: Refund Policy waived until April 30th. If you're registered for an in-person LAMP workshop and are unable to attend, you may cancel or reschedule without penalty.

Contact registrations@aacandautism.com.
Discount Policy
We offer a 50% discount for parents who are considering the LAMP approach for their children and for students in professional programs. ASHA CEU's will not be processed for discounted registrations.