AAC & AUTISM
Did you know...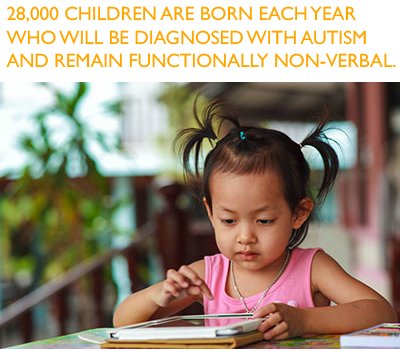 In the United States, 1 out of 59 children will be diagnosed with autism. Studies indicate that up to 50% of these children will be unable to communicate their wants, needs, and thoughts verbally. According to birthrate statistics reported by the CDC, that means that up to 28,000 children are born each year who will be diagnosed with autism and remain functionally non-verbal.
These kids deserve more!
Why AAC?
When a child has severe speech and/or language disabilities and can't communicate, it affects his or her quality of life, educational access and ability to develop social relationships. In addition, the frustration of not being able to communicate can lead to behavior challenges... Learn More >
What is the goal of AAC?
Communication involves expressing one's needs, desires, opinions, fears and sense of humor. It allows us to ask questions, and interact with those around us. For those who cannot speak, AAC provides a way to actively communicate... Learn More >