LAMP Training Workshop (Online)
Due to public health concerns about the COVID-19 virus, The Center for AAC & Autism will be doing in-person trainings only when we can comply with CDC and local guidelines, and we feel we can ensure the health and safety of our hosts, attendees and trainers. As conditions may change, trainings may be moved online as necessary. If you feel sick or have come in contact with someone confirmed or suspected of having COVID-19, please do not attend. Transfers or refunds will be given without penalty. If you have questions about our LAMP trainings, please email
registrations@aacandautism.com
.
Thu., Feb. 10, 2022
6:00 pm - 8:00 pm
Time Zone: Eastern

19.50 USD

Online

Instructor: Amy Bereiter
LAMP at Home: A Webinar for Parents
This webinar is designed for parents who are implementing the Language Acquisition through Motor Planning approach at home. It will provide a quick overview of the Words for Life app and its organization, review the 5 principles of LAMP, identify ways to engage children at home and teach language during natural activities, discuss the parents role in teletherapy, and allow time for discussion and questions.
This course does not address programming and use of features within the app. That information is covered in Words for Life App: Features and Programming for LAMP.
---
Objectives:
Participants will be able to identify and discuss the 5 principles of LAMP.
Participants will be able to identify 3 home activities to engage their child at home.
Participants will be able to identify potential language targets based on home activities.
Participants will be able to describe how to help their child establish a motor plan.
5-10 minutes - Introduction 
20 minutes - Features and Organization of LAMP WFL
30 minutes - LAMP Principles
15 minutes - Ideas for LAMP Implementation at Home
15 minutes - Discussion / Questions 
Amy Bereiter, M.S., CCC-SLP, ATP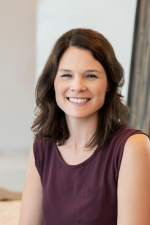 Amy Bereiter, MS, CCC-SLP, ATP, received her Master's Degree in Speech-Language Pathology from the University of Redlands in 2004. She has worked with toddlers through young adults in a wide range of settings including in-home early intervention, early childhood special education, elementary self-contained programs, pediatric rehabilitation units, university clinic, and private practice. She has developed AAC evaluation teams at several sites. Currently, she is a full-time SLP at a LAMP Center of Excellence in Northern Virginia, and a LAMP Trainer for the Center for AAC and Autism. Amy specializes in Augmentative/Alternative Communication (AAC) and works extensively with occupational therapists and other related professionals to best understand and treat children with sensory processing disorder, visual impairments and motor impairments. She works closely with families to educate, train and support implementation of AAC in the home environment, and leads a support groups for parents of AAC users.
Financial: Amy Bereiter is contracted by The Center for AAC and Autism of PRC-Saltillo.
Non-Financial: Amy receives free equipment from the Center for AAC and Autism to use for her presentations.
ASHA CEUs

Instructional Level

Introductory
Submission Deadlines
Live online classes: Participants wanting ASHA CEUs must be registered, "join" the class through his/her unique confirmation email letter and participate for the entire duration of the class. No partial credits will be submitted. Participants have 15 days to submit all ASHA paperwork to PRC-Saltillo. ASHA paperwork received after 15 days will not be accepted. Your entrance and exit of the class are timestamped and you must stay logged in on a computer or tablet for the entire class in order to receive ASHA CEUs. Call-in only attendance does not qualify for ASHA CEUs.
In-person classes: All ASHA paperwork must be submitted to the presenter by the end of the training day.
Participants wanting ASHA CEUs for a multiple day training must attend all days. In addition, if there is a registration fee associated with the class and payment is not received, PRC-Saltillo will not submit your request for ASHA CEUs.
PRC-Saltillo has 45 days after the seminar to turn in your ASHA Participant form. Once ASHA receives your participant form, please allow 4 weeks for the course to appear on your ASHA transcript.
ASHA Information
An annual ASHA CE Registry fee is required to register ASHA CEUs. ASHA CE Registry fees are paid by the participant directly to the ASHA National Office. The annual ASHA CE Registry fee allows registration of an unlimited number of ASHA CEUs for the calendar year. Contact the ASHA CE staff at 800-498-2071 ext. 8591 for CE Registry fee subscription information: www.asha.org
PRC-Saltillo licenses a patented technology that is in PRC-Saltillo products trademarked as Accent®, ChatFusion™, NovaChat®, PRiO®, TouchChat®, TouchChat® Express, Look™, NuEye®, and NuPoint®, as well as software (CoreScanner™, Engage, Essence®, VocabPC™, MultiChat15, UNIDAD®, Unity®, WordPower™, LAMP Words for Life®, LAMP Words for Life® - Spanish/English, LAMP Words for Life® - VI, TouchChat® app), and our Language Acquisition through Motor Planning™ (LAMP) approach. PRC-Saltillo also has registered five websites, aacapps.com, aaclanguagelab.com, exploreaac.com, realizelanguage.com, touchchatapp.com, and alpforaac.com. Because there are no other like-kind products available, course offerings will only cover information that pertains to the effective and safe use of the above-named products/softwares/websites.
PRC presentations will focus exclusively on Accent, PRiO, NuEye, Look, NuPoint, Unity, UNIDAD, LAMP Words for Life, LAMP Words for Life - Sp/En, LAMP Words for Life - VI, CoreScanner, Essence, WordPower, Explore AAC, Realize Language, or AAC Language Lab and will not include information regarding other similar or related augmentative and alternative communication (AAC) devices or software.
Saltillo presentations will focus exclusively on ChatFusion, NovaChat, TouchChat, VocabPC, MultiChat15, WordPower, TouchChat app, Explore AAC, or TouchChat website.
WordPower is a trademark of Inman Innovations, Inc; © 2001-2019; All rights reserved. Used with permission.
The Assessment of Learning Process (ALP) for AAC is a trademark of PRC-Saltillo and Lisbeth Nilsson.
Most of our presenters are salaried, employee-owners of PRC-Saltillo. A few of our presenters are contracted presenters.

This course is offered for ASHA CEUs (Introductory level).
Refund Policy
Payment: Registration may be paid by credit card or purchase order. A $30 processing fee will be applied to each purchase order. You must register each individual separately online with their own contact information. If registering more than 10 people, call 866-998-1726 to verify there are enough seats remaining.

Refund: Refund Policy waived until April 30th. If you're registered for an in-person LAMP workshop and are unable to attend, you may cancel or reschedule without penalty.

Contact registrations@aacandautism.com.
Discount Policy
We offer a 50% discount for parents who are considering the LAMP approach for their children and for students in professional programs. ASHA CEU's will not be processed for discounted registrations.
Discount Policy
We offer a 25% discount for a group of 5 or more attendees when paid by purchase order. All attendees must listed on the same purchase order. This discount needs to be selected at the time of registration. We are not able to retroactively provide the discount after the registration is processed.