LAMP Training Workshop (In-Person)
Tue., Dec. 11, 2018
8:30 am - 3:00 pm

109

Wexford-Missaukee Intermediate School District
Room: Lake Superior
Cadillac, MI
Wexford-Missaukee Intermediate School District
Language Acquisition through Motor Planning (LAMP)
LAMP is an augmentative alternative communication (AAC) approach designed to give a method of independently and spontaneously expressing themselves through a speech generating device. This course will cover the components of LAMP: readiness to learn, engaging the learner through joint engagement, and learning language through a unique and consistent motor plan paired with an auditory signal and a natural consequence. Discussion will include how this approach addresses the core language deficits of autism, device features that are beneficial to teaching language, and how to use those features to implement LAMP components. Videos will be used to illustrate the treatment components.

PRCs language system and devices will be used to illustrate treatment components; however LAMP principles can be applied to other products. Due to the limited duration of this course, hands-on time with devices will be limited to breaks.

You may cancel up to two weeks prior to the workshop for a $35 cancellation fee. Within the two weeks prior to the workshop no refund will be available.
---
Participants will be able to:
Define the role of readiness to learn and shared focus in the implementation of AAC with children with ASD.
Explain the importance of using motor patterning to develop motor automaticity for children with ASD who use AAC.
Examine the use of a form/function profile as well as an interest inventory for use with children with ASD.
Discuss implementation strategies for teaching children with ASD to use AAC.
Discuss strategies for analyzing the efficacy of communication treatment.
5 minutes - Welcome and introduction
30 minutes - Communication processes in ASD & benefit of LAMP approach
15 minutes - Overview of LAMP approach
30 minutes - Readiness to Learn
15 minutes - Shared focus
15 minutes - Consistent & unique motor patterns
15 minutes - Auditory signal
15 minutes - Natural consequences
30 minutes - Language Connections
30 minutes - Getting Started
30 minutes - Core vocabulary and language representation
60 minutes - Implementation goals and activities
30 minutes - Summary and follow up
Teresa Andrews, M.S., CCC-SLP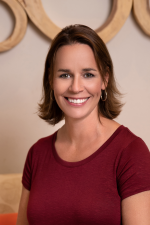 Teresa Andrews is a speech-language pathologist employed as the Project Manager in the Infant Communication Lab at the University of Nebraska-Lincoln. She has been in this position since a move to the Omaha/Lincoln area with her family in 2014. In this position she conducts research with children in various stages of infancy to determine warning signals for difficulties with speech, language and social communication in later ages.

Before moving from Colorado she spent much of her 15-year career working in early intervention specializing in augmentative communication and autism. She worked closely with families to provide AAC services to children with complex speech and language needs ages up to the age of 20. Teresa has also worked with The Center for AAC & Autism as a LAMP Trainer since 2008.

Teresa received her undergraduate degree from the University of Northern Iowa in 1995 and her master's degree from the University of Nebraska-Lincoln in 1997. She maintains her certificate of clinical competence from the American Speech and Hearing Association as well as her Nebraska state license. Teresa is dedicated to providing quality speech and language services to children and families across the country.
Financial: Teresa Andrews is contracted by The Center for AAC and Autism.
Non-Financial: Teresa receives free equipment from the Center for AAC and Autism to use for her presentations.
ASHA CEUs

0.5

Instructional Level

Introductory

Content Area

Professional
Submission Deadlines
Live online classes: Participants wanting ASHA CEUs must be registered, "join" the class through his/her unique confirmation email letter, participate for the entire duration of the class, and pass a post-test with 80% accuracy or higher. No partial credits will be submitted. Participants have 15 days to submit all ASHA paperwork to PRC. ASHA paperwork received after 15 days will not be accepted.

In-person classes: All ASHA paperwork must be submitted to the presenter by the end of the training day.
ASHA Information
Participants wanting ASHA CEUs for a multiple day training must attend all days. In addition, if there is a registration fee associated with the class and payment is not received, PRC will not submit your request for ASHA CEUs.

An annual ASHA CE Registry fee is required to register ASHA CEUs. ASHA CE Registry fees are paid by the participant directly to the ASHA National Office. The annual ASHA CE Registry fee allows registration of an unlimited number of ASHA CEUs for the calendar year. Contact the ASHA CE staff at 800-498-2071 ext. 8591 for CE Registry fee subscription information: www.asha.org

The Prentke Romich Company (PRC) licenses a patented technology that is in PRC products trademarked as Accent™, PRiO™, NuEye™, and NuPoint™, as well as software Unity®, Essence™, CoreScanner™, UNIDAD™, LAMP Words for Life™, and our Language Acquisition through Motor Planning™ (LAMP) approach. PRC also has registered two websites, Realize Language™ and AAC Language Lab™. Because there are no other like-kind products available, course offerings will only cover information that pertains to the effective and safe use of the above-named products.

This presentation will focus exclusively on Accent, PRiO, NuEye, NuPoint, Unity, CoreScanner, Essence, UNIDAD, LAMP Words for Life, Realize Language, or AAC Language Lab and will not include information regarding other similar or related augmentative and alternative communication (AAC) devices or software.

Most of our presenters are salaried, employee-owners of the Prentke Romich Company. A few of our presenters are contracted presenters.
This course is offered for 0.5 ASHA CEUs (Introductory level, Professional area).
Refund Policy
Payment: Registration may be paid by credit card or purchase order. A $30 processing fee will be applied to each purchase order. You must register each individual separately online with their own contact information. If registering more than 10 people, call 866-998-1726 to verify there are enough seats remaining.

Refund: If you should need to cancel your registration for any reason, you may do so up to two weeks prior to the workshop for a $35 cancellation fee. Within the two weeks prior to the workshop, no refund will be available.

Contact registrations@aacandautism.com.
Discount Policy
We offer a 50% discount for parents who are considering the LAMP approach for their children and for students in professional programs. ASHA CEU's will not be processed for discounted registrations.